entry kali ni saya tujukan khas untuk kawan kat UiTM Kuala Pilah merangkap abang dan akak yang selalu bagi nasihat dan ceramah free. jyeah! thanks. :)
wahai one of my "abang" kesayangan

,
jangan marah kite ye. seem kite dah macam adik beradik kan.
kite mintak maaf sangat2. tak tau lah kenapa emo melampau2 sejak akhir2 ni.
ampun maaf di pinta. you still can having some joke with me.
kite harap abang maafkan kite. i know easy to forgive but hard to forget. but i'm totally sorry. abang kite ni cute kan? :D
i'm so sorry. i may not perfect. but please i'm still me.
you know me better kan? kite kan dah macam abang dengan adik. so of coz kite sayang abang kite. maaf kite tak reti mana betul dan mana salah.
and you're one of my guide kat sini selain dari member2 kite.
nanti kite belanja makan aaa. *kalau ade duit laa. :P
i'm so sorry emo sangat tadi. heeee.
abang sayang kite kan? hehehe.
orang asli tak nak gaduh2 dengan orang asli kat sana tuu. please keep on joking with me because you're my abang. :)
Abang this is for you. :)
*credit to my abang. hope you'll read this entry. :)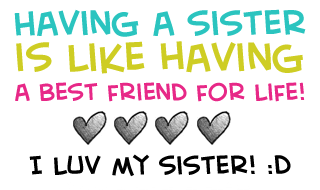 sori akak kite takde niat nak marah akak.
kite tau kite silap. i'm so sorry. you also know me right?
kite kenal dah 2 semester. dah macam satu family, and i love you.
akak jangan selalu kecik hati dengan kite. sumpah kite tak reti nak pujuk orang. ngeee~
kite serumah and dont worry i'll never forget ur nasihat and pandangan.
i accept all ur pandangan sebab awak akak kite.
family kite tak dekat sini. so awak laa akak kite. semua nasihat awak akan kite cuba ingat.
terima kasih sebab tahan melayan kerenah hampeh kite ni.
kerenah gembeng melalak tak tentu pasal, menangis sebab benda kecik, make small thing become more miserable. i'm so sorry. :)





credit to my akak2 kat rumah saya tuu. :)
this is my abang and akak says thanks :)
sorry guys sebab dapat kawan pelik macam saya ni. saya tahu saya teruk. saya akui semua tuu kelemahan saya. saya akan cuba ubah kelemahan ini.
silent is better. saya taknak banyak cakap nanti sakitkan hati korang, i love you and i dont want to lose anyone of you. thanks coz come into my life and not leave me alone when i have some stupid problem. :)
i'm sorry guys. :')
i'm sorry. i'm too emotional. i try to change this bad attitude. :)
*nota kaki: Syukur Alhamdulillah ya Allah. you give me such a good friends :)